Welcome!
Ah, the start of a new KAL. There's so much potential. There's so much promise. There's so much....
Okay, I ran out of synonyms that start with the letter p.
In any event, sign ups are now open! If you have (or are planning to purchase) the Lisa Souza Sock! or Sock! Merino yarn in the Lime & Violet colorway, then this is the KAL for YOU. Just send an email to lnvkal@gmail.com to join in the fun. If you have a blog, please let us know the URL so we can link to it!
There are no project restrictions. Sock yarn is perfect for socks, but it's also great for gloves and shawls and sweaters and legwarmers and tons of other stuff. Now is your chance to show off with the pattern of your choice.
To get us all in the mood, check out this vase in lime green and violet purple: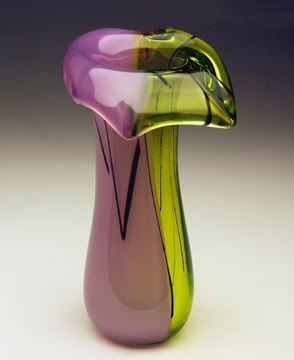 (Vase is from www.cliffhousestudio.com and the image is stored locally. Hotlinking is bad, kids!)