Gearing Up
We are busy sorting out possible prizes.
I tell you this to tempt you, of course.
Start date: October 13th.
Yes, that's Friday the 13th. Somehow, it just seemed appropriate. *grin*
When emailing lnvkal@gmail.com for signups, please include your blog address if you have one! That way we'll all be able to keep in touch and follow progress. Photos of finished objects will be posted here and we'll have a gallery as well, when the time comes.
If you don't have a blog, that's just fine as well. You are still welcome to sign up and participate.
And now, another photo for inspiration: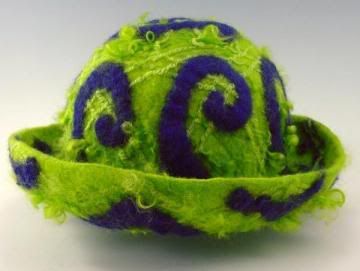 That's from a woman named Ruth Walker at www.boundlessgallery.com -- be sure to check out the rest of
her hats
if you like this one.