The ranks are growing.
It's so awesome to see you guys signing up! Welcome! This is really going to be a lot of fun.
Remember, to sign up, send an email with your name and blog info (if you have a blog) to lnvkal@gmail.com and we'll add you to the side bar. Please keep in mind that this KAL is organized around using the Lime & Violet colorway from Lisa Souza so you'll need to be using that yarn.
We didn't make that a requirement to exclude anyone, please understand. But every KAL needs a common theme and since we aren't working on a specific pattern and since the Lisa Souza yarn IS the official yarn of the Lime & Violet podcast, this yarn IS our theme. You can do anything you want to with it and it's possible that the colorway will soon be available in yarns other than the sock yarn -- that's what I've been given to understand anyway. I could be wrong! In fact, I'll do my best to find out and let you know.
And now, more color inspiration: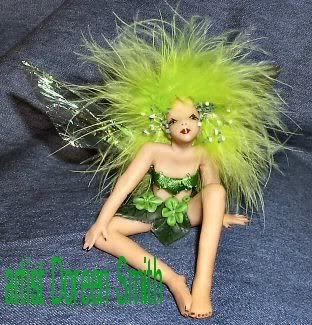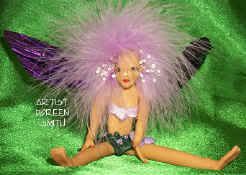 These sprite dolls were handmade by Doreen Smith of
Woodland Sprites Fantasy Sculptures
. There's one named Violet sprite, but she's totally blue instead of purple.